In some service club organizations, they have a part of the meeting called Brag For A Buck where you can stand up and, for a dollar, brag about someone in your organization or family for one minute. Today I want to announce a Father's Day contest (keep reading!) but on a related note, I also want to brag for a minute. Because when it came time to pick  a guy to marry and have kids with, I got pretty lucky.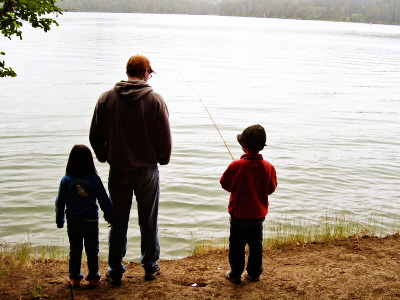 He doesn't read this blog anyway.
I mean, I'm pretty sure.
Anyway, even though I am totally the type to tear up at awards ceremonies, the Olympics, long distance telephone commercials, elementary school recorder concerts and at rodeos when they play that damn "Proud To Be An American" song, this is not going to be a long, sappy list of how he is the greatest dad ever because he attends recitals and applies Band-Aids (even though he does that too.)
No, the list is a little more unconventional and all the more awesome.
He read War & Peace to our son before he was even born.
He and the kids have matching luchador masks.
He taught my daughter the life cycle of the nutcracker when she was four and then took her to the mountains to find one.
He lets the kids stand on his back while he does push ups.
He tells elaborate stories about talking animals and insists they're all completely true.
He's a walking encyclopedia of politics, American history, geology, botany, ornithology – and Star Wars.
He plays catch with my son until it's dark outside. Every night.
Despite his degree in biology and the fact that he is a doctor, he told the kids that babies are made by "magic."
On Mother's Day, I held a random drawing for a free 5×7″ portrait. It's only fair that on Father's Day I do the same. Tell me something about a dad – any dad – and you're entered. I'll announce the winner on Father's Day.