I'm a member of the artist association in my hometown. My mom and dad still live there and my mom keeps me up-to-date on the comings and goings of the artist community in the small coastal town. So when mom called me a few months ago and asked if I wanted to design a chair for a charity auction,  I said sure. I mean, why not add one more thing to my plate?
The charity was Neighbor-To-Neighbor which is a group of volunteer mediators that do exactly what it sounds like – they mediate disputes among neighbors, and others, that can't be resolved otherwise. Anyway, they invite artists to re-design donated chairs within the annual theme. This year was Pirates and Bulldogs, Ducks and Beavers.  If you're from Oregon you already know that the Oregon State Beavers and the University of Oregon Ducks are bitter rivals and school children start choosing their loyalties in kindergarten. Pirates and Bulldogs refer to the high school mascots of my alma mater (Pirates!) and our cross-town rivals, the Bulldogs.
Envisioning lots of bright designs in school colors, I decided to go in a different direction – a Pirate Captain's Chair. Since this was all going down in my hometown, I asked my mom to go scope out the chair situation and send photos. I settled on a burly rocker with sturdy arms and carving.
The process took place over a period of two months or so and in two cities as I levied my parents' retirement and my dad's handiness with power tools into some free labor.
First, my dad used a rubber mallet to pound off the rockers because, duh, a ship's captain can't have a ROCKING chair on a ship. I didn't get any photos of that because I was too busy holding the chair and also hoping that the legs wouldn't fly off with the rockers.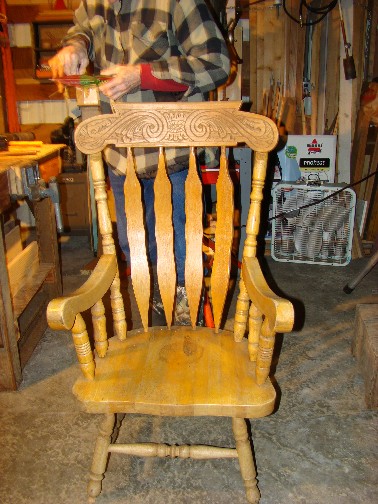 We drilled a hole for the wooden parrot that would be perched on the back. Do you see where I'm going with this?
Then, I left my parent's house and went back home for the next few weeks, leaving them to, I mean asking politely if they would, sand the entire chair down and spray paint it glossy black.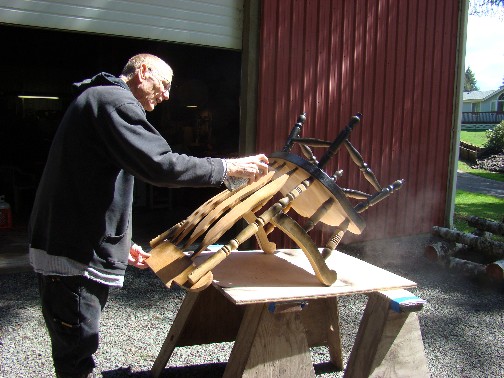 The paint dried and the next time my mom came to visit, she brought the chair with her. I painted some details over the already-carved chair back which pretty much look like they were carved specifically for this project.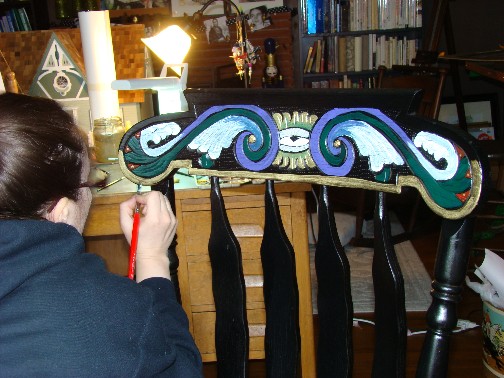 I painted some segments of the turned legs gold to look like brass fittings. This sort of work really kills your knees if you are on a hardwood floor, in Oregon, in winter.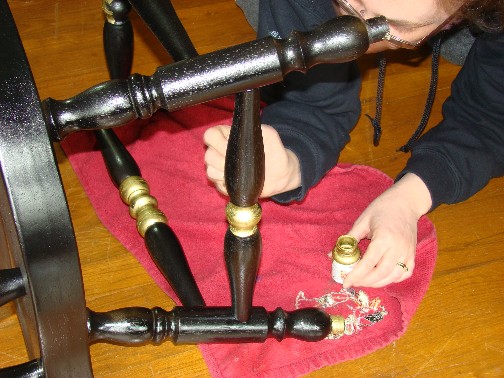 I painted the ribs of the chair back to look like ivory or whale bones, and what the heck, I gave it a peg-leg as well.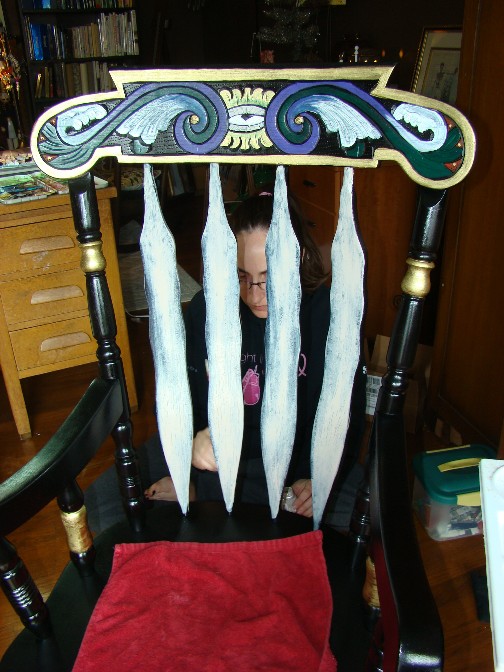 When it was dry, mom hauled it back to her house, plopped on the cushion I'd picked out at Ross, aka my favorite store in the history of ever, and glued the parrot into his permanent perch. Voila!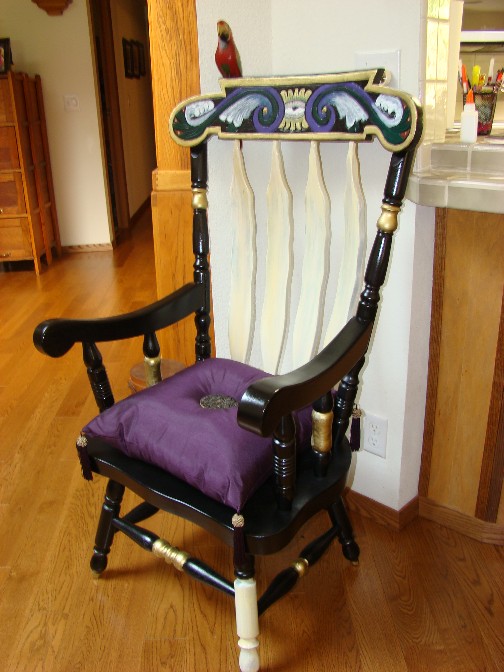 My parents went to the auction this weekend and reported that my chair went for the second highest amount – the highest amount if you don't count chairs purchased by the artist's mom. Next year's them is "The Power of Words" and I've already got a few ideas…