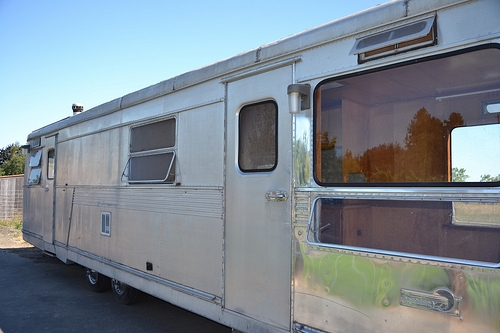 Last weekend I took a huge  leap when I purchased this 1955 Spartan trailer to renovate and use as my art studio. I had just started looking around for a new space – toying with ideas like RVs, refurbished school buses, tiny houses and pre-fab buildings, when I stumbled upon this beauty locally. I love the lines, the shine, and the near certainty that I will yell, "For Sparta!" every time I cross the threshold.
I mean, get a load of these details.
And these windows.
And this beautiful birch wood interior.
It's 33 feet of mid-century marvelous.
It will take a few months and some elbow grease to get Leonidas spiffed up and road-worthy because I will be doing the work piecemeal, as I can afford it. He has good bones, but the 60-year old plumbing and electrical will be checked out, along with some finish carpentry.
Since I signed the papers on Friday I've been scouring Craigslist for formica, Eames and an atomic-era television (I want to make a bar out of one) and of course, Pinteresting my brains out.
My new portrait series will go a long way toward funding the studio renovation, as well as positioning my business financially to make full-time art a reality. It's my biggest and most audacious Kickstarter project yet – timed, appropriately – to celebrate my 40th birthday. I hope you'll check it out, and I hope even more that you'll let me paint you. And 399 of your friends.
This studio is the first major step I've taken toward making art my full-time gig someday.
Having a room of my own seems a good place to start.